First We See The Pistol Being Shot Into The Air (with a 3 round burst thanks to Clifftybonbons) . Taking This And The Box Shape Of The Pistol If U Look At The Pistol With Out The Coak Back it is The Robo Cops Auto-9 Beretta 92.
Lastly In This Picture I Notice The Cyborg Helmet (And a Bandana?) With Cyborg Like Armour Im making a guess and with help from
Mn09y654
it is indeed robo cop. But What I Definutly Know Is They Will Be Adding New Armour and Guns!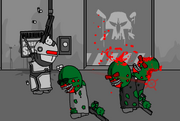 Ad blocker interference detected!
Wikia is a free-to-use site that makes money from advertising. We have a modified experience for viewers using ad blockers

Wikia is not accessible if you've made further modifications. Remove the custom ad blocker rule(s) and the page will load as expected.