Hello everyone! I decided to put my theories and guesses in the blog about the MC11. As we know, Krinkels is already creating MC11. He has released two screenshots. Let's see;
The First screenshot... This is clearly a new character we have not seen in MC. Personally, I think this is Krinkels. Imagine Hank Sanford and destroyed the Auditor (or rather did Tricky). There is no danger at all, does not it? But here we see the main creator of all this mess .... Krinkels! And what if he was the chief of the Madness world? Or is he the owner of "Higher Powers"? Time will tell...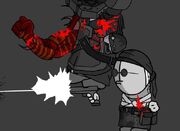 The second screenshot... It shows Hank and Sanford. Hank has increased a little bit of blood on the body. Sanford shoots with a Glock 20 (the gun since the MC10) to someone. How can we differentiate amongst, Sanford hits someone. Some dark bits... Obsessed soldiers? I'm leaning towards this option. But because the Auditor died... Then in the episode will be someone with the power of the Auditor? Well, maybe this just a trace of Normality Restoration.  
That's all, if there were more screenshots, it would be more theories and guesses...
Goodbye!  
Ad blocker interference detected!
Wikia is a free-to-use site that makes money from advertising. We have a modified experience for viewers using ad blockers

Wikia is not accessible if you've made further modifications. Remove the custom ad blocker rule(s) and the page will load as expected.