Madness: Project Nexus 2
Talk

0
374pages on
this wiki
Madness: Project Nexus 2


Artist(s):
Krinkels
Programming:
The-Swain
Music:
Cheshyre, Devin Martin
Release date(s):
TBA
Genre(s):
Action, Shooter
External links
Madness: Project Nexus 2 is an upcoming Madness Combat shooter/action game developed by Krinkels and The-Swain. It is the sequel to Madness: Project Nexus. It was officially announced by both Swain and Krinkels on Madness Day 2013, and it was also stated that a Kickstarter may be started to help fund the project.
Unlike its predecessor, Project Nexus 2 will not be made using Flash. Instead, the game will be made using the Unity game engine, and played with Unity Player. With Unity, this enables the game to be created with fully functioning 3D graphics. The 3D models used for the game are being made by Krinkels, but another modeler may provide modeling talent in the later stages of development in the game.
Gameplay will remain in a diagonal isometric perspective, with a similar room format as its predecessor. Krinkels has also stated that despite the move to 3D graphics, the visual style will remain "cartoony", thanks in part to custom cel-shading.
The decision was made to use Unity rather than Flash because Flash could not handle the features that were intended to be implemented in the original game. All news and updates for the development on the game can be found on the official blog.
According to The-Swain, M:PN2 is meant to be an extension of Madness: Project Nexus the same way M:PN was an expression of the Madness series. [1]
The-Swain revealed that M:PN2 will support PC, Mac, and Linux, and they hope to get it on Steam. Console support is also possible in future. [2]
An official Facebook page for Madness: Project Nexus 2 was created on June 30th. See here.
The official M:PN2 website was created on July 23rd. See here.
The official M:PN2 development forums were launched July 25th. See here.
The-Swain has released an alpha teaser for Madness: Project Nexus 2 on June 20th. You can watch the teaser below, or watch it on the YouTube page.
On July 23rd, The-Swain created a video where he discusses M:PN2 and the gameplay it will feature upon its initial release. You can watch it below, or watch it on the YouTube page.
Planned Features
Edit
The following features have been confirmed by either Krinkels or The-Swain:
Arena Mode [3]

A perk-system similar to the predecessor.

A Legendary perk-system that will allow players to use skills similar to the protagonists of Madness Combat, and even increase the player's size.

Players will be able to have a majority of non-legendary perks, but the player can only pick one legendary tree. For example, if you start investing in being the size of a mag agent, you won't be able to invest in having Jesus' telekinesis abilities. [4]

Players will always be able to respec their skill points.

The-Swain has stated that the game is being built specifically to support the arena mode. [5]

More weapons, like grenades
Dual-wielding weapons [7]
Possibility of shields, gloves and boots.
The game will immediately follow the events after Episode 1 of M:PN. [10]
An "A.A.H.W. Mode," where the player leads soldiers in order to stop a Madness Combat protagonist and prevent him from killing your boss character. [11]

The player will possibly be able to directly control the boss character.

Weapon upgrades [12]
Enemies will be able to follow you from room-to-room; battles wouldn't be room-locked like in the prequel. [13]
There will be a new "sub-Mag" enemy unit. [14]

This new enemy unit will shove smaller enemy units aside.
The armor on the enemy unit will deflect all bullets.

Free Roam mode [15]
Multiplayer may be possible, but it's not one of The-Swain's top priorities.
Destructible bodies [16]
Armor will deteriorate to damage [17]
Players will not be limited to only one character in Arena Mode, unlike the prequel [18]
Players will be able to use G03LM-sized weapons. They will also have access to their inventory at all times. [19]
Throwing bladed melee weapons at enemies will have the melee weapon stick in them until they die, at which point you can retrieve them. [20]
A "Realism Mode" that would disable HUDs, e.g.; TAC-bars. [21]
Players can grapple and throw enemies [22]

Players will be able to throw grappled enemies at other enemies to knock them down

Players can use the environment to a greater advantage than in the predecessor, such as throwing enemies at a wall, dealing higher damage.
The player will be able to change the controls to their liking, and even choose the player character's dominant hand. [23]
Unarmed attacks will be more useful and have more options than the first game. [24]
The player will be able to use various kinds of ammo, such as incendiary rounds. [25]
Players will be able to create, submit, and install mods for the game. [26]
The game will reveal more info about the exact nature of Nexus Program and A.A.H.W., and the backstory of how Dr. Christoff became Jesus. [27]
There will be modes that will allow the player to play as A.T.P. agents and/or zombies. [28]
There will be methods of aiming two guns at two different places, with potential methods including special attacks and target locking. [29]
NPCs will be able to interact with each other.
Story Mode [30]
Zed Survival mode

Players will be able to mix and match weapon parts in this mode.

Some parts of weapon customization will require points in a "Scavenger" skill tree. [31]

There will be enemy survivors, such as bandits. [32]
Hanging around in one spot for too long will let the tougher enemies seek you out, which can be costly. [33]

Players will be able to use their Arena Mode characters in multiple modes, except for Story Mode. [34]
The-Swain discusses M:PN2
Edit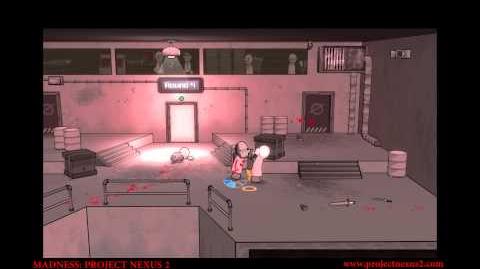 Development Gallery
Edit